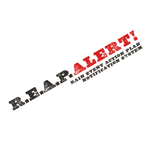 OhNo! Rain!
The REAP Alert! app was prompted by State of California's issuance of, guess what: a new regulation. Now there's a shocker.
This regualtion mandates that all construction projects cease operations during, what they deemed, "Rain Events". Many States have since issued similar mandates or simply have reciprocity with the CA law (another shocker).
Under the labels "Increasing Safety" and "Helping the Public," the mandate states that, should the N.O.A.A (National Oceanic and Atmospheric Administration) predict a 50% or higher chance of rain in a specific area, on a specific date, ALL construction jobs in that area must be halted.
This includes:
All construction workers notified of the stoppage (yet still paid)
The city notified of the construction company's complience.
"Lock-down" procedures instigated.
All of these things must be performed (at least) 48 hours in advance of the Rain Event.
All of these things must be performed regardless of whether it actually rains.
These regulations are, of course, a major complication for construction companies working in multiple areas. Especially the largest companies that work in dozens of postcodes, across multiple states. The task of tracking each area and checking the N.O.A.A predictions is costly and extremely time consuming. Especially considering the reliability of weather predications even 24 hours out.
Private Sector To The Rescue
The REAP Alert! app automates the process.
Contractors can manage jobs across multiple zones and states, choose their notification trigger levels (each state, of course, has a different set of rules,) and select their notification methods (email, SMS, text).
REAP Alert! watches the areas for them and sends out notifications if a Rain Event is predicted in one of their job sites. That is, only if the rain event is scheduled 48 to 72 hours in advance.
REAP Alert! also allows contractors to enter and pre-fill some of the paperwork required for the shut-downs, automatically filling in the date and zone information for them. Short of paying their workers for unnecessary down time (I'm sure you've noticed how many times a 75% chance of rain suddenly becomes a sunny day 24 hours later,) the REAP Alert app saves contractors a lot of time and money.
REAP Alert app is fully responsive, uses HTML5 video and graphics, and featurs an in-depth project manager and mapping system. The subscription payment system uses Recurly and authorize.net. The proprietary connections and automation interface with N.O.A.A and runs the notification logic on a cron. The interfaces to the five major U.S. SMS carriers are all custom coded.