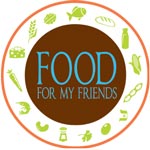 The recipe network specifically designed for social events
Perhaps you've been in this situation: there are twelve people coming for your child's birthday party and half of them have specific dietary requirements. 4 have food allergies and 2 have food restrictions.
So what are you supposed to serve?
The Food For My Friends Social Recipe App (FFMF) was built just for those circumstances.
Start a new event and go to the search utility. Put in all of the restrictions -- say for example, Peanut Allergy, Soy Allergy, and Vegetarian. FFMF will search through its database of recipes and find and return all of the recipes that match the parameters.
When you find a recipe that you like, add it to the event menu (or save it for later in your favourites.) Once you have all of the recipes that you want, assign them to courses, add your invitees list, and the app will automatically invite them all.
Invitees are emailed the date and location (with a map) of the event, who will be there, the menu, and an R.S.V.P. link. FFMF tracks each invitee for you so that you know exactly who is coming and who is not. If something changes, FFMF will automatically notify all of the invitees.
Add recipe ingredients to a shopping list, ask and answer questions or post information to its live chat, add your own recipes to the database, add and manage your contacts and friends, and much more all in the Food For My Friends Social Recipe App.