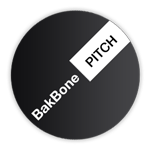 The Only Way To Hold Your Tablet
Dr. Paul Webber contacted me in 2011 with an idea for an ergonomic, removable, and most importantly, sanitise-able tablet ring.
As an E.R. doctor he could see the increased use of tablets within the medical and emergency response industries. He also noticed that, unless the tablet was placed on a table or the ground, typing was difficult and cumbersome.
When Doc. Paul approached me, the tablet ring was just getting started; there were drawings, there were 3D printer prototypes, and there were ideas, but it was all in the initial stages.
What they needed was a bit of everything:
A name for both the company and the tablet ring
Branding (logo, look and feel)
Packaging
A website including a web store and a place for some serious white-sheet and case-study documentation.
It was a little while in the making but, in the end, they had a beautiful product ready to ship, a name, branding, and packaging, the store and the white-papers, Amazon integration, and a full logistical setup that allowed for domestic and international shipping and tracking.
Though no longer in use, the Bakbone site was fully responsive, using HTML5 video, audio, and graphical capabilities and features a full-function product browser and store that interfaces to customised builds of foxycart and authorize.net. But the real power was the proprietary connection and automation happening behind the scenes with the logistics company, IML (warehousing, shipping, and receiving.)
The Bakbone is a great tablet ring that I highly recommend. I've had mine since the first production run and I can't imagine using my iPad without it. Regardless of your industry, it's a fantastic option for everything you do (from waiting tables to note taking in the lecture hall.) Check it out at www.thebakbone.com.