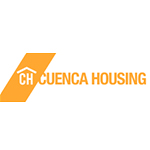 The real estate app for independent agents
Cuenca Housing is a browser based real estate app with a powerful administration side.
Buyers and Renters can view your posted real-estate listings within a specific area -- all the details are there:
Images, videos, and floor plans (as available).
Primary and physical details about the real estate property such as whether it is up for lease or purchase, the size and area, the number of rooms, the price, etc.
Smoking and pet policies, parking and storage availability, lift access, etc.
Features of the property including gyms, television and internet availability. Who pays the utilities? What furniture or utilities are included?
Details about and contact information for the listing agent.
The Articles section gives helpful information on what it's like to live in the specified area, what is available to do, what shops, merchants, and vendors are available in the area, and tips concerning the laws and regulations that may be unique to buying or leasing there.
The power of a big agency without the big price.
There are a host of features for the Administrator that allow the management of listings, agents, articles, and permissions.
The Administrator assigns statuses to property listings. This means that, for example, a rental property, once rented, can be 'statused' as archived. This hides the property from Renters and Buyers but maintains the information. Now, when the property is again up for rent, the status can simply be changed to active, a new agent assigned, and some details updated.
All of the information, photos, videos, etc. are immediately posted on the site for people to see.
The Administrator also assigns Agents to properties. Agent information may be controlled and updated at any time (or the agent can be given the permission to control their own information.)
Agents can also, with the right permissions, add and manage their own listings. The administrator can decide whether new listings need to be approved before going public.
A few of the coolest aspects of the real estate app are these:
All of the information about a listing can be inserted and updated via mobile phone or tablet. As an admin or listing agent you can go to the property and, as you walk through, fill in all of the information, take your videos and photos, and upload everything to the app all at once.
You can choose to automatically post all of the images to Instagram and/or the property listing notice to Twitter. Adding more social network interactions is also possible.
If this real estate app sounds like something that you would be interested in having for your independent agency, contact me. It's easy to set-up, easy to use, easy to adapt to your company's look, and best of all, it's inexpensive.